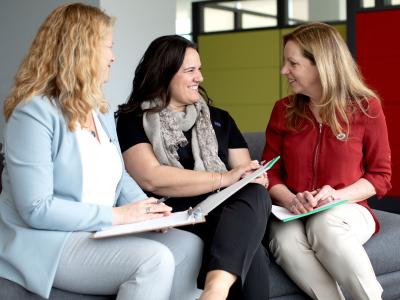 June 5, 2019
On Tuesday, June 4th, 2019, the Nova Scotia College of Nursing (NSCN) was established by government, giving one new nursing regulator the authority to regulate all nursing designations in Nova Scotia - licensed practical nurses (LPNs), registered nurses (RNs) and nurse practitioners (NPs). 
While the key elements of self-regulation our stakeholders are used to will remain the same, there are some changes within the new Nursing Act that we want to share with you.
What will change?
Establishment of NSCN
Our name. NSCN. As one nursing regulator we have a new name and a new logo.
Our legislation. We have a new Act (the Nursing Act), regulations and bylaws. Read here. 
Our website. You're on the new site now so take a look around and let us know what you think. 
The term 'member'. All nurses registered by NSCN will now be referred to as registrants.
Membership with CNA (CRNNS only). The provincial government's new policy on self-regulation clearly outlines the role of the regulator to serve and protect the public, which is separate from the advocacy mandate of an association; therefore RNs will not be automatically enrolled in CNA. Learn more. 
NSCN Board
Our Board. The first NSCN Board has 11-members, which includes five public representatives, three LPNs and three RNs. Meet the Board.
Regulatory Committees
Composition of committee panels. Most committee panels struck to hear a matter involving a registrant must have at least one committee member of the same nursing designation. 
Registration and Licensure
One place to check the Registers for all nursing designations. There will be one convenient place to verify the status of LPNs, RNs and NPs. Search for a nurse.
Two categories of licence. Each registrant will be issued either a practising licence or a conditional licence for their particular designation. Learn more. 
Licensing new nursing graduates. Conditional registration and licensure will continue to be issued to those who are waiting to pass their entry-to-practice exam.  
Changes for NPs
Collaborative practice relationship requirements. NPs will no longer be required to submit documentation of collaborative relationships in order to begin practice.
Client population requirements. NPs will no longer be required to notify the College when moving to a different practice setting or clinical area within the same client group.

If you have any additional questions related to these changes or any other aspect of NP practice in Nova Scotia, please

NP Scope of Practice Guideline or

contact 

practice@nscn.ca

.

 
What Won't Change?
Registration and Licensure
Registration status. Your current registration will automatically transfer to NSCN and your registration number is not changing.
Nursing designations. The three nursing designations in Nova Scotia – LPN, RN and NP - will remain.
Nurse verification. You will still be able to verify the status of LPNs, RNs and NPs via one 'search a nurse' database.
Currency of competence. The number of practice hours required to renew your licence remains the same. 
Professional liability insurance. Liability insurance coverage and carriers have not changed. 
Exams. All registration and licensing exams will remain the same, including the number of write policies. 
Professional Practice
Scopes of practice and Standards of Practice. The scopes of practice for LPNs and RNs will not change until new Regulations are made to change the scope of practice. The Standard of Practice for all three nursing designations will also remain. 
Practice consultation. Support provided through practice consultations will continue for all nursing designations. 
Practice review. Practice review will continue to involve just NPs at this time. 
Continuing Competence Program (CCP). CCP will not change, nor will the processes for verification of compliance. 
Professional Conduct
Complaints investigations. All ongoing investigations will be transitioned to NSCN.
Professional conduct decisions. Agreements, informal resolutions, and undertakings, will remain under the same terms and conditions. 
Education Approval
Education program standards. All programs approved by the legacy Colleges are also approved by the NSCN Board. 
Education requirements for new nurses. The minimal education requirements for entry into the nursing profession will not change. 
Are you a nurse with a matter currently before CLPNNS or CRNNS? 
An action, appeal, application or other proceeding underway with CLPNNS or CRNNS will be continued by the Nova Scotia College of Nursing.
Regulatory matters or processes that began with the former CLPNNS or CRNNS, including applications for which a decision has not yet been made, will be processed by the NSCN under the new Nursing Act as nearly as circumstances permit.
Any professional conduct hearings however, will be continued under the provisions of the applicable former Acts (LPN Act or RN Act)
Questions or comments?
Please contact us with any questions or concerns you might have at information@nscn.ca.