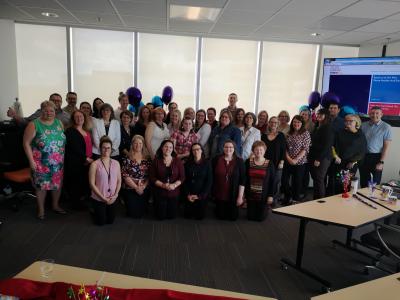 June 4, 2020
Today marks our one-year anniversary as the Nova Scotia College of Nursing (NSCN) and we are excited to celebrate this milestone with you and our stakeholders. One year ago today, we made history by becoming the sole nursing regulator in Nova Scotia and the biggest regulator in Atlantic Canada. Since then, we have remained committed to representing the best interests of the public as well as staying true to our values of accountability, transparency, integrity, agility and being relational. 
"More than a celebration, this day is also a thank you to the public, all nurses and our key stakeholders across the province who participated in the journey to one nursing regulator and have remained active and involved in NSCN over the past year," shares Sue Smith, CEO and Registrar of NSCN. "We have accomplished so much together on behalf of all Nova Scotians and I look forward to continuing this work with you." 
Our response to COVID-19 is an example of the benefits of one nursing regulator. During this unprecedented time, our team mobilized quickly to provide regulatory solutions applicable to the nursing profession as a whole. This included offering a rapid licensing process for all designations of nurses, developing contingency plans for all schools of nursing and students in the province, providing practice advice inclusive of the separate scopes of practice, and communicating to the public as one nursing regulatory voice. 
"As I reflect on the past year, I am most inspired by NSCN's commitment to regulatory excellence. Whether it be the COVID-19 response or in other instances, NSCN is a leader within Canada and does so, in part, by listening and collaborating with others to find the best approach to delivering its programs and services on behalf of the public," shares Charmaine McPherson, Board Chair. 
As we move into year two as NSCN, our team remains energized by the opportunities and projects ahead and in finding ways to continue enabling nurses to deliver safe, quality care to Nova Scotians in need. While we take this time to celebrate our one-year anniversary, our thoughts are also with the public, nurses, other health providers and loved ones who have been impacted by COVID-19.  
On behalf of the NSCN Board and staff, thank you for a wonderful first year as NSCN.
Graphic: This image represents many of the committed employees of NSCN. Since taking this photo on June 4, new staff members have joined our organization.