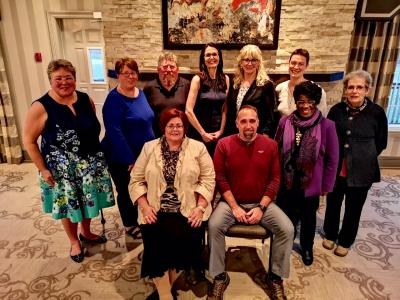 May 24, 2019
As the new Nova Scotia College of Nursing, we are pleased to introduce the new Board. As the first Board for the new College, this group is paving the way forward for nursing regulation in Nova Scotia. 
The Board was officially selected on Wednesday, April 24 and have been working since then to prepare for the legal establishment of our organization. With proclamation of the Nursing Act, they now have the authority to govern our organization and make governance decisions that are consistent with the new Act, regulations and by-laws. 
The Board consists of 11 leaders: 
Charmaine McPherson, RN, Chair
Jason Reeves, LPN, Vice-Chair
Anne Bigelow, Public representative
Michael Gillis, Public representative
Emily Huner, Public representative
Susan Nasser, Public representative
Betty Thomas, Public representative
Theresa MacDonald, LPN
Shaunna Snow, LPN
Chanda MacDonald, RN
Sheri Price, RN
Since Board members may be initially familiar to some stakeholders, each member has written a brief profile highlighting their background, experience and expertise. We encourage you to get to know each of our Board members and to follow along in their historic journey as our first Board.   
For more information, meet the Board as well as learn about the Board will operate in the best interest of the Nova Scotian public.    
If you have any questions, reach out to us at info@nscn.ca